I walked towards a small thicket of hemlocks obscuring the stump of the tree we were playing on. I had been so intent on getting through the hemlock thicket near the stump, I did not notice the grove of giant pine trees the snag had originated from. The largest island pine trees stood over one hundred-twenty feet tall, spanned between ten and twelve feet in circumference, and were free of branches or live limbs for eighty feet or more. The openness of the enclosed outdoor space beneath the crowns of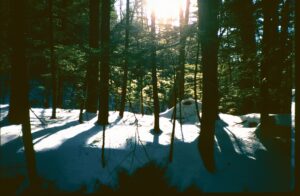 the massive pines created a natural cathedral.
The ground was covered with a six-inch-thick thatch of old pine and hemlock needles that felt soft and strangely lofty under bare feet. The tall trees and thick, soft, ground cover combined to buffer the area from outside sound. My cousins and I began speaking in hushed tones and were nearly whispering after a few minutes of exploring the area.